Golf Course
The Mayville Golf Club, established back in the early 1930's is a beautifully sculpted eighteen hole golf course featuring rolling hills on the front nine and tree lined fairways on the back nine. The golf club features 18 holes of golf, power golf carts, fully stocked pro shop, golf lessons, driving range, memberships, and locker rooms with showers. In addition to the golf course, the Mayville Golf Club has a bar and grill along with banquet facilities. The golf club which seats up to 300 people, has a spacious dining hall area and dance floor. The golf club accepts bookings for golf outings, weddings, anniversaries, showers, funerals, and miscellaneous banquets. The clubhouse is handicap accessible, has a full service bar, air conditioned, and offers in-house catering for your special event. The Mayville Golf Club is conveniently located and is only an hour away from Milwaukee, Appleton, and Madison. So for your next day away for golf or your special event, come visit the Mayville Golf Club. For tee times or banquet information call (920)387-2999.
Golf Course For Lease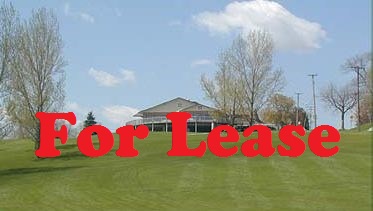 The City of Mayville will accept proposals until 4:30 p.m., Thursday, December 7, 2017, for the management, operations and maintenance of the City of Mayville Golf Course and/or restaurant, bar and banquet facility associated with the City of Mayville Golf Course, 325 South German Street, Mayville, Wisconsin. The City will entertain proposals to manage both the course and clubhouse or either one or the other separately.
The Mayville Golf Course is an 18-hole course conveniently located in Dodge County. The facility offers a pro shop, on-site bar and grill, golf leagues and tournaments, banquet facilities and an outdoor ceremony site. www.mayvillegolfcourse.com/
The objective of this proposal is to provide the City with a qualified operator/operators who will provide a high level of service to the public while it operates, manages, promotes and maintains the course and related facilities in a fiscally responsible manner. Activities to be performed under this agreement include, but are not limited to all services required for public golfing on the 18-hole golf course, course maintenance, pro shop management, cart rental, food and beverage service, and banquet facilitation. These activities would be performed in accordance with the terms and conditions of an agreement to be entered into by the selected operator/operators and the City.
Certain businesses or individuals may be selected for personal interviews based on the City's evaluation of the proposals and a final selection will be made.
To submit a letter of interest please email, call or mail: Mayor Rob Boelk; mayor@mayvillecity.com; City of Mayville; PO BOX 273; Mayville, WI 53050; (920)212-0441; www.mayvillecity.com.